Design
GreenEarthCity embraces the following concepts
:
Resiliency
Resiliency is a key component to any development. Whether the design is an urban development or rural, developing food and energy independence are key components. GEC team members will embrace concepts that integrate resiliency with local, county, state and federal laws, mandates and policies. We will also integrate geography, ecology, and other important concepts.
Alternative energy sources and strategies mixed and matched based on Geography
:
Wind Power
Solar Power
Micro hydro
Conservation design and more.
Example:
We believe design can be used to decrease need and reliance on cars. Ideally, a city should have a means to transport people that is quick, reliable and efficient. Most efficient city designs are based around the cell theory. That is each 'section' is shaped circular in cells and added together to form communities and then cities. Transport is based around efficiency and minimizing environmental impacts.
Examples:
People walkways
Human Car
http://www.humancar.com
Walk-able distances to work, shopping and other services including multiple use designs
Rail Systems for longer distances
GreenEarthCity (GEC) is about communication in action and creating a discussion for how a city should work to stay healthy. We feel that design should incorporate natural ecology, geology, human ecology, permaculture principles, and that a team of people can help facilitate the most appropriate design by also taking into account the needs of the community and the existing rules and regulations.
Examples:
Zocolos
Large free community centers
Communal ownership possibilities of land and services with membership in each community
Open buildings or rooms for neighborhood meetings
Transparent and open planning sessions
Kin Domains
With economy playing a large role in the viability of Ecocity development, it must be noted that to facilitate the creation of these developments economic theory must account for long term energy use, food production, true cost of the production impacts
Examples of Green City Cellular Design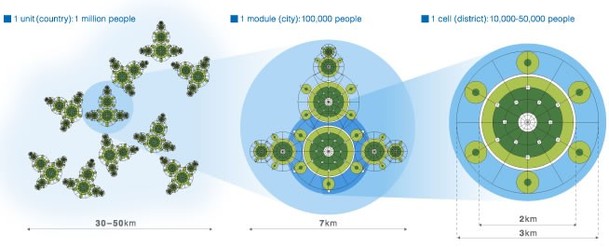 An example of a floating city powered by solar and waves. This design features a cellular organic structure